Mildbrand
Christmas Trees

Northern Wisconsin Balsam Fir Christmas Trees

Wholesale &amp Retail Sales
About | Wholesale Ordering | Retail Ordering and Prices | Contact Us | Questionnaire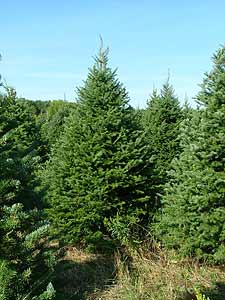 About Mildbrand Christmas Trees
The Balsam Fir Christmas trees grown on the Mildbrand Christmas Tree Farm are some of the finest quality X-mas trees in the nation. The soft, aromatic needles of the Balsam Fir make it pleasant and easy to handle and is thus a premier tree for Christmas tree usage.

Balsam Fir is a native species to northern Wisconsin. So the Balsam Fir trees grown here are hearty, nicely shaped and well colored. Some trees grown for Christmas tree sales need to be sprayed with green dye to attain the "natural" green color that is expected in a Christmas tree. Due to the cool growing conditions in Northern Wisconsin and the general nature of the Balsam Fir tree, Mildbrand Tree Farm Christmas trees achieve their attractive blue-green coloration naturally, without color dyes or sprays.
Click Here to see samples of our pruned Christmas Trees ready for sale.
Wholesale Ordering
Mildbrand Christmas Tree Farm specializes in selling Christmas trees to wholesalers. Please call or e-mail us with inquires about placing wholesale orders.
| Height (in feet) | Price Per Tree |
| --- | --- |
| 6 to 7 | $13.50 |
| 7 to 8 | $14.050 |
| 8 to 9 | $15.00 |
| Larger Sizes Available | inquire |
Note: Wholesale prices are for trees that are baled and stacked on the lot. Buyer is responsible for transportation costs.
Location Map:
The Mildbrand Tree Farm is located about five miles north of Medford, Wisconsin, on Highway 13. Watch for the Mildbrand Christmas Tree Farm sign at the top of the hill on the East side of the road.
Custom Handling and Guaranteed Satisfaction

Owner, Scott Mildbrand hand selects, cuts and promptly delivers Christmas trees based upon individual customer specifications. Just let Scott know the height (maximum height for UPS shipping is 6.5 ft.) and width requirements and he'll personally select a Christmas tree perfect for your needs. Your satisfaction is guaranteed. If for some reason you aren't completely satisfied with the tree you receive, just ship it back to Mildbrands' and your money (not including shipping) will be promptly refunded.

Retail Ordering Information
We want to provide you Christmas trees that best meet your needs. Please feel free to either call us using our toll free number or e-mail us if you have special needs. We'll try to select trees that best fit your requirements and will send it via United Parcel Service (UPS) when we receive your order form and check or money order.
If possible, please place your Christmas tree order by November 15th. Trees will be shipped on the date that you request.
Persons from the Medford, Wisconsin, area are welcome to make the gathering of your Christmas tree a family event by coming to our "choose and cut" lot to select and cut your own tree. We are located on Hwy. 13, 5 miles north of Medford, Wisconsin.
Retail Pricing Information
The prices of our Christmas trees are based upon the size of the tree and the distance to which they are being delivered or sent. Please look at our printable order form for pricing details.
Note: 6 1/2 foot tree is the largest tree available for retail purchase.

Please call toll free (877-519-8933) for a specific shipping fee quote for your area.
Satisfaction Guaranteed
If you aren't completely satisfied with the Christmas tree you receive from Mildbrand Christmas Tree Farm, just ship it back to us and we'll refund the full purchase price (not including shipping).
Contact Us
Thank you for visiting the Mildbrand Christmas Tree Web site. Before you leave (hopefully to print and send in your order form), please take a little time to answer our online questionnaire at the bottom of this page. It will help us to decide what payment options, services, and other features to offer our Web site visitors in the future.
To place a retail order please print and send in our on line order form.
To discuss specific Christmas tree requirements, wholesale inquiries or to ask questions regarding cutting your own tree and deliveries contact us at:
Scott and Gail Mildbrand
Mildbrand Christmas Tree Farm
W5339 Whittlesey Ave.
Medford WI 54451
Phone: 715-748-3988
Fax: 715-748-9007
Toll Free: 877-519-8933
E-mail:
sgmild@tds.net
Questionnaire
Note: Your privacy is important to us. The information you provide in this questionnaire will be kept strictly confidential and is for Mildbrand Christmas Tree Farm usage only.
About | Wholesale Ordering | Retail Ordering and Prices | Contact Us | Questionnaire
---